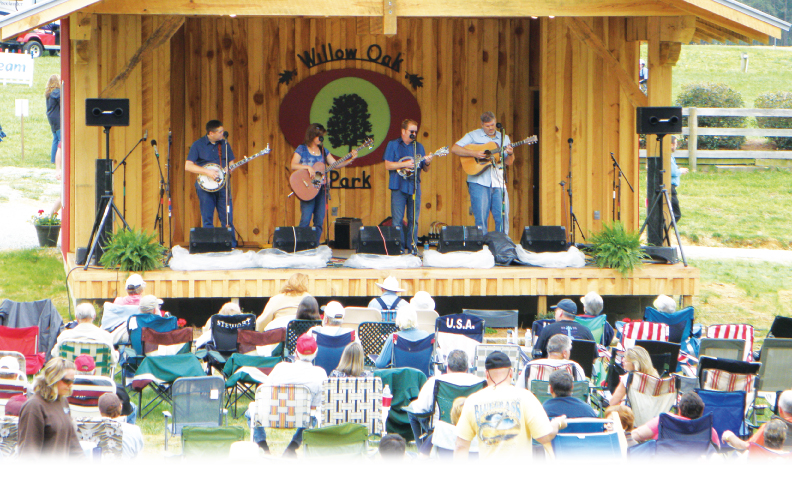 WILLOW OAK PARK BLUEGRASS FESTIVAL

JUNE 15-16-17, 2017
Join us for a weekend of music as friendships are made and renewed through the enjoyment of bluegrass music and those that perform it. Whether it is on the stage or at a campfire, the banjos will ring and the fiddles will sing as everyone gathers for three days to share their love for the music and nonstop entertainment.

At the Willow Oak Bluegrass Festival you will hear some of the most popular acts in the industry. The award winning groups that perform at Willow Oak Park come from all across the country to entertain with vocal and instrumental talents that will leave you amazed and envious while you laugh, cry, sing along, hear a new composition, dance or just sit and pat your foot. While these artists are known world-wide, they are always willing to spend time with their fans and will visit one-on-one and often times you may find them participating in a campsite jam session. This relationship between entertainers and their fans is one of the special attractions of bluegrass festivals.

The camping at Willow Oak Park is a favorite way to enjoy the total experience of the weekend celebration. Many attendees are musicians themselves and enjoy the picking with friends and acquaintances at campsites often times until the early morning hours. There are numerous campsites that accommodate large RVs as well as smaller campers and tents if you so desire. We have installed new electric hook-ups for RVs and campers who want the added convenience. The camping area is well lit and accessible for easy set up. Various vendors will participate and have food and other items you may want to purchase. If camping is not your thing, hotels in Roxboro are only a ten minute drive and some have special bluegrass festival rates. Parking at Willow Oak Park is free when you park in the one-day lot. If you desire to park in the camping area, there is a $5.00 per day fee if you are not camping. Whether you come for the day or the entire weekend, we will try our best to make your visit an enjoyable experience you will look forward to every year.
ADVANCE TICKETS & CAMPING WILL BE
AVAILABLE FOR PURCHASE SOON
Click here to download festival flyer with details

Join our mailing list and be notified of upcoming events!
Contact: Mike Wilson mike@WillowOakPark.com 4060-M Harper Trail, Burlington, NC 27215